The Trusted Name in Optical Dispensary Development
Medical Eyeglass Center has changed the way eye care practices manage their in-house optical dispensary. Under the leadership of our CEO, Rob Katz, Medical Eyeglass Center has become the trusted name in optical dispensary management because we partner with our clients.
We stand apart from our competition because we make long-term commitments to growing profitability while helping owners be more in control of their practices. Unlike our competitors, we do not take over your practice or simply develop a written plan and walk away. We stay with you every step of the way allowing you to focus on patient care as we expertly manage your dispensary. We oversee staffing, purchase your inventory, improve processes and handle other operational aspects, all while enhancing your ability to make profitability decisions about your dispensary.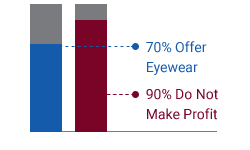 If your eye care practice struggles with running a profitable and successful optical dispensary, you are not alone. Approximately 70% of all optometry and ophthalmology practices offer eyewear to their patients, but 90% of those dispensaries do not make a profit.
Many practices try to improve profits by:
Offering designer options at higher price points.
Introducing coupons and discounts.
Advertising locally.
Implementing extended hours of operation.
Profitability is a science that requires in-depth knowledge of local demographics, best practices, streamlining processes and key techniques to appeal to a broader marketplace.
Since 1978, Medical Eyeglass Center has improved the profitability of optical dispensaries across the nation. Our consulting and support services improve profitability through:
Patient-Centered Approach that defines value from the perspective of your patients.
Turn-Key Dispensary Management with our comprehensive programs that cover all aspects of operating your optical dispensary.
Customized Solutions by Medical Eyeglass Center that are tailored to the unique needs of your practice and patients.